Skip Bedell Package Deal Silver 20'
$1,099.97
$1,872.91
-42% OFF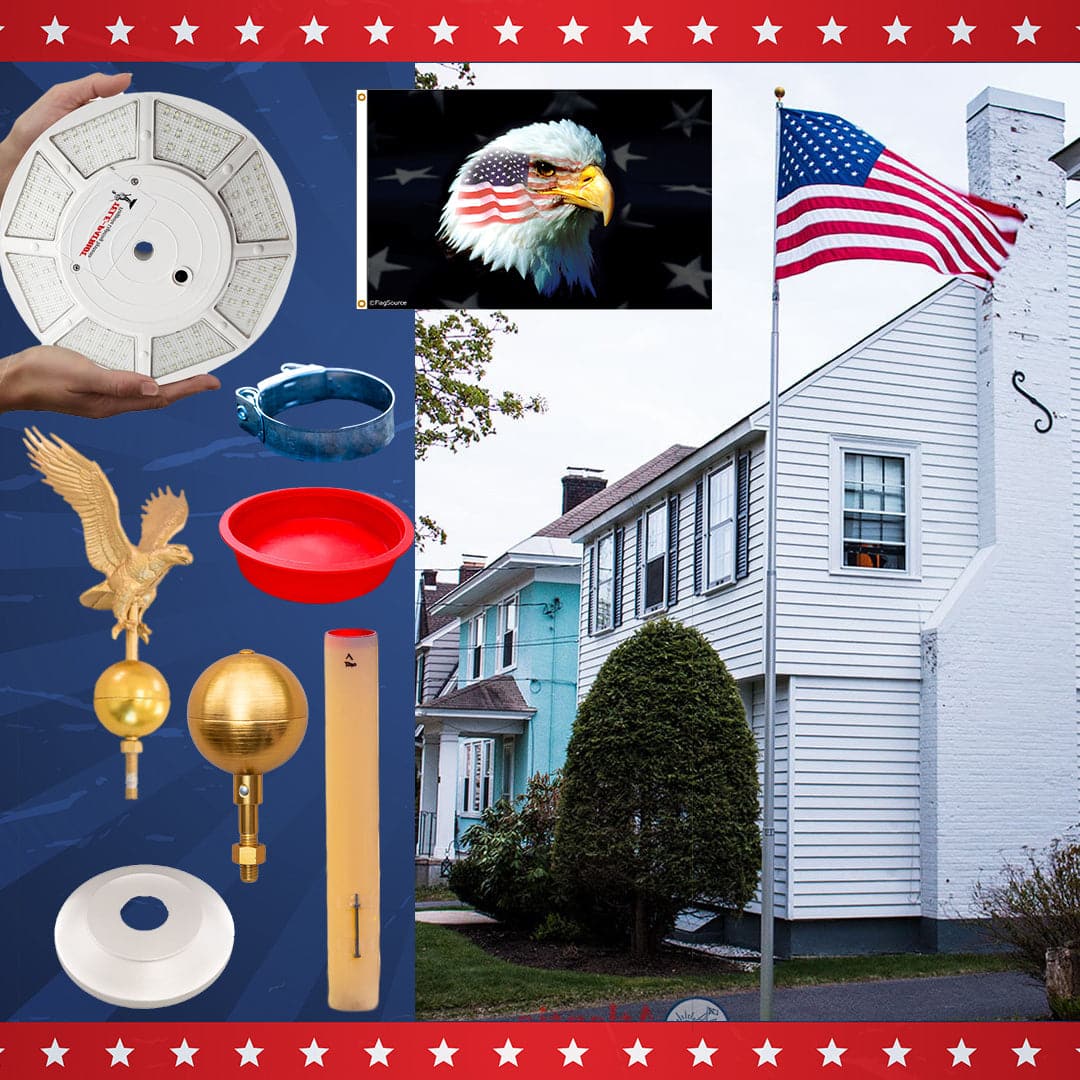 A Flag and Flag Pole to Be Proud Of
I purchased the 20' silver pole that came with the eagle topper, solar light and eagle extra flag. I am overwhelmed with how wonderful this purchase was. Perfect easy to follow directions (so important) for putting the pole up. Accurate right down to how much cement and the dimensions of the hole. The pole is so well engineered (and I am one). I appreciate good quality and this appears to be extremely well made. I really like the ability to telescop it down to add or remove a flag as well as pull it out if the weather dictates. So happy. I put this up with the assistance of my son and 4 yr. old grandson. We had a 3 generation outdoor project and a great celebration to raise our wonderful American flag and eagle flag which was a great way to honor our vets (I'm one) on the 2020 Veterans Day. I also want to mention the wonderful communication with Bethany over shipments and updates. I highly recommend this pole and kit to anyone who wants to proudly fly their American Flag -talk of the neighborhood! You can't go wrong with this product. Thanks So Much.
Hope you can see the pictures
https://photos.google.com/share/AF1QipNvquQd8F9T5o3jq1S6B3dgmcyXBmeG672TkapX0tfNE2OQ63CkKNtdsgphysE5HQ/photo/AF1QipMU8wIxKOc8t5cbPDZxcL3e7VPP25-0LD5y21dd
https://lh3.google.com/pw/ACtC-3eaWmzQ5_64o3NrtdxwUluVSYFUJtJSLgfy5GXQJDIUFpVhoilWVQKJc6JY-rZEoGgw06cPaGqybkGW7tfc3rUF3vkeVDA=w457-h609-no?authuser=0
https://lh3.googleusercontent.com/ZGjPNKaYSBcTdmJLaBngWRZ2yFX_fPwi0ZnbUsjHCuqEC7Ev-lbDZYdoGE6qBmPJCZfkgZn5KlcHvJ_c139Y_IFfCexRk8Tv-0TemckfUtXx22kuqUQj7EtLe2OOg58bBuaWfKpTJyXbVWEnz0jtExJr75PkXwROzTZ46cRRIKYvUf1ZYSr3Umua9x3IZu0MEhUVjllflXlq8WyYeeMfGODRXUni7XHOMUp8OUxQc9zqX6zOAKGTpZHKYz6JwBSHbKshvNm9pcSx_3JEFJQqo1Hkar_M7_ZlE42eOcajhzwQLnEZZq3ic_6uy2vWvCR3oIO1AVbHsS-b9RaBz3SWtJqYxLXFfzKSri_FB3OYfuvWrp8cDpm2cBxt6iZcmxWvIsO9fMmnTlEPE3YoXkWTFD0r5rKY6G3J4XuLpeUhAry2wBmvO_mw9OKhmeh9u2zOP2G4BBNaPeNKYz7CmE5x8anYkjrY89zJU5ZD3uGa5f4UdoN1bjyR-Enthx9fE-YQwOw_XngzA9I4rJzTg4yoLisQDjSgOXnqB-Rw7fDcmLz3qDFoZIw5uTd3BlnwHIeiLUbGEy4BGpVMEWCzxmoRzg3eGOfvvMseALaUg7fVLg9PZ2Ua64pl1Cl3xtXb-z_i2woIBD5_AvMzKZmoBu5nU3PQHDI_oroPMi6CdqnDamACaHKmWCkm43F4rloalw=w457-h609-no?authuser=0
MADE IN USA!!!
Well made; Easy install; Beautiful; Great price!
MADE IN USA!!!
Well made; Easy Install; Beautiful; Great price!
Love My Flag!
Just installed today. Easy to put up. Also got the solar led light so we can keep it up at night. Love, love, love my American flag!
Great products and service
Waiting on eagle flagpole top.
Skip Bedell Package Deal Silver 20'
Flagpole Kit
Excellent product. High quality and looks like a million dollars. Very much appreciate the weekly updates from Bethany.
We Love our new Flagpole. Great quality, easy to use. Installation was very easy and proud to be flying the Flag once again.
We have received 3 items. We are not assembling it til Oct when everyone returns to Florida. Let you know how things go then.
Great Flagpole Package!
I am very pleased with the quality of the items included in the flagpole package I received. As an example, there is a home about one mile from our location that has a different flagpole setup. Their light on top of the flagpole barely illuminates their flag while our light shows our flag much better.
Shop Safe
State-of-the-art secure 256-bit encryption SSL protection ensures your shopping experience is safe.
365 Day Phoenix Home Trial
Enjoy our industry-exclusive 100% risk-free money-back guarantee.
Forever Warranty
Worry free warranty for as long as you own your Phoenix Flagpole
Made in USA
American Engineering. American Aluminum. American Made.