Securi-Shur Anti Theft Locking Device for Flagpole - stainless steel sleeve clamp
Size
3 Inch Hole (20' and 25')
2.5 Inch Hole (Under 20')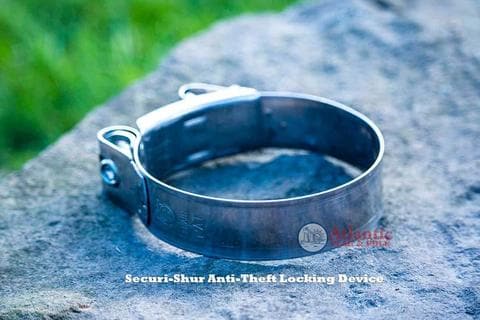 secure anti theft locking ring
1 its not anti theft at all 2 it has no locking device 3 its too large to even hold the flagpole its just a clamp, icould have purchased a correct size clamp at local hardware for five bucks gary
Atlantic Flag & Pole
We love our flagpole. It's very easy to put up & down. The solar light is fantastic and showcases our flag at night. It looks beautiful and add so much to our home. It shows our patriotism. Atlantic Flag & Pole has fantastic products. We have recommended many family & friends. Thank you!!
Securi-Shur Anti Theft Locking Device for Flagpole - stainless steel sleeve clamp
Best Looking Flag Pole!
Put up my new flag pole into cement base, placed in center of my lawn, looks absolutely beautiful! I made a shade for the solar light so it doesn't shine in my house.
Finishing touch for home
This home was built in 1983. But it wasn't finished until the flag went up. This flagpole was easy to install and looks great.
Aww. That really made my day to hear that. -Bethany
Atlantic flag pole
Excellent and strong flag pole. Very easy to put flags up and down.
The flag pole, the black collar and the lock are working fine.
Excellent product and fantastic customer service
We purchased our flagpole from Atlantic four or so years ago. We recently moved and took our flagpole with us. We left the washer and dryer but took the flagpole so what does that tell you?
Anyway, we needed a new sleeve and clamp for obvious reasons and Atlantic worked with us to ensure this would happen.
We have had several other good flagpoles over the years and I can honestly say, this one is heads above all the others.
We unequivocally recommend this company and their poles.
Safe and Secure
My biggest issue keeping the pole in the sleeve while extending the pole. This high quality clamp solved the problem and added security.
Shop Safe
State of the Art secure 256-bit encryption SSL protection keeps your shopping safe
365 Day Phoenix Home Trial
Industry Exclusive 100% Risk Free Money Back Guarantee
Forever Warranty
Worry free warranty for as long as you own your Phoenix Flagpole
Made in USA
American Engineering. American Aluminum. American Made.