Fly Third Flag Attachment Set For Telescoping Flagpoles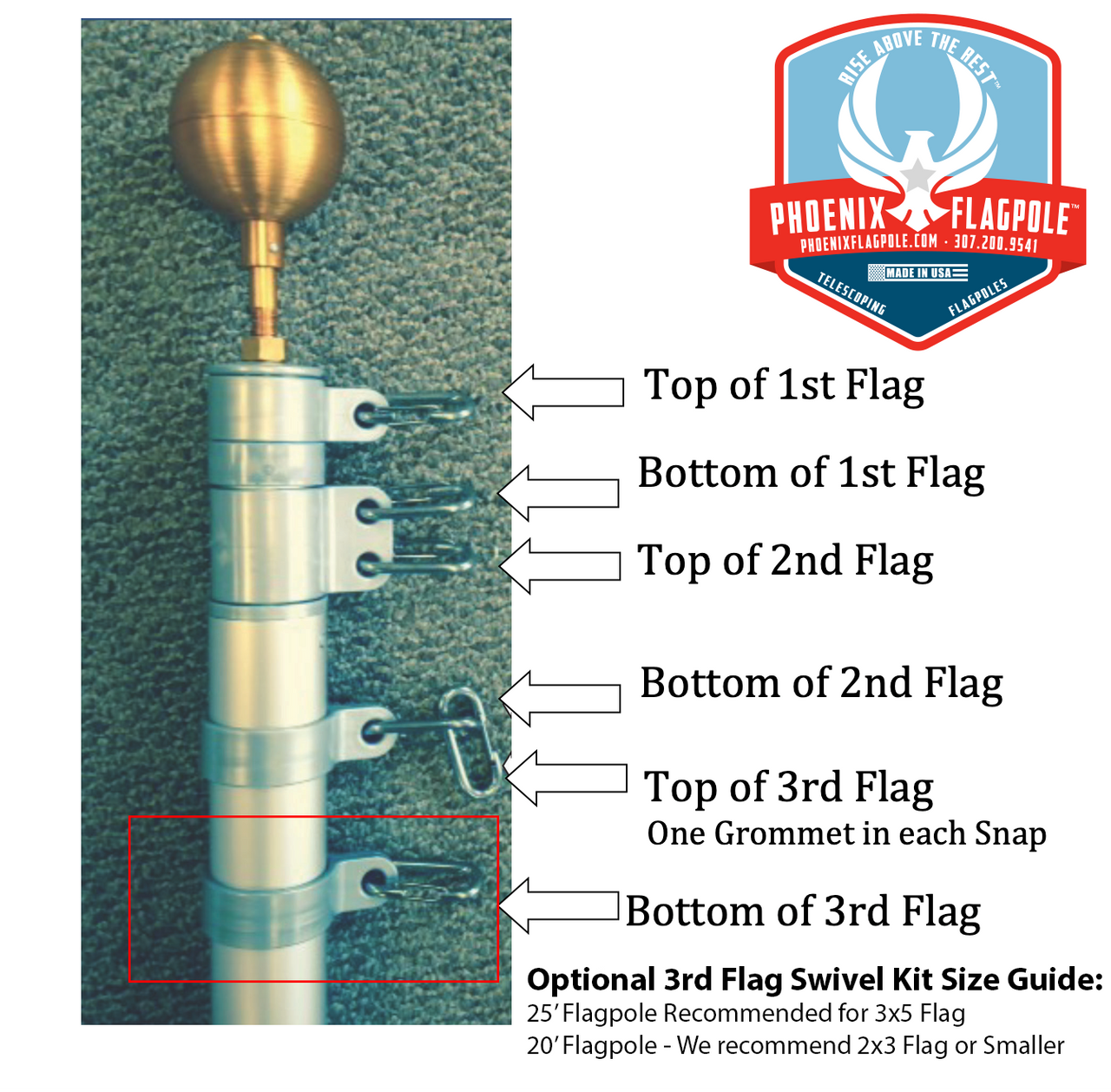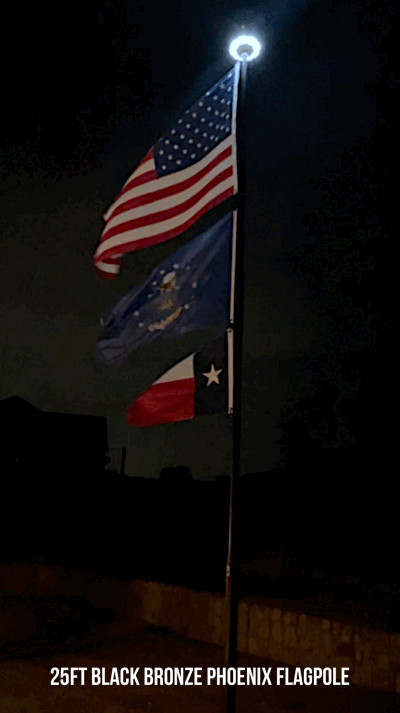 Fly Third Flag Attachment Set For Telescoping Flagpoles
Third flag
Great look, easy to install.
Perfect! And just in time!
I have to tell you I have had my flagpole for two years in the box. We were planning on moving to a new built home. We decided to back out of the move and July 4th I dug my hole and set my sleeve. I put up my flagpole a week later and I had just received this part to hang my 3rd flag. Love ❤️ my flagpole!!
Middle Flag connections
There doesn't seem to be enough space between the 3rd and 4th clasp to properly extend the full depth of the 2nd flag before the 3rd flag clasp is positioned.
New Flagpole
The weather has been too HOT 🥵 in Texas that we have yet to put up the flagpole once we can get out to dig the hole and install I will send you all pictures of it thanks
3rd flag option
I have the third flag option and it is a great addition! My only complaint is that the flags get twisted sometimes and don't all swivel together. At first, I would lower and raise to correct, a lot, and then just let it happen, it will eventually work itself out. Overall, a great product and so far in the Wyoming winds, it has stood up to the task!!
Very happy with my new flagpole and flag. Every passerby makes a nice/ wonderful comments!
Fly Third Flag Attachment Set for Telescoping Flagpoles
I'm disappointed. The picture showed a complete replacement set of rings, but instead it was a single ring and two Spring Snaps. The package should be a double ring and the two spring snaps like the middle ring the flag pole came with. This would allow two double clips together and the current bottom single ring to be the bottom for the third flag and be a much neater installation. The description of this item said use a smaller flag for the third flag when on a 20' pole, but the paperwork sent said recommended for 25' pole only.
Hi RC!
Thanks for taking the time to provide some valuable feedback. It's what helps us fine tune our company's quality control initiatives! Regarding your mention of a complete set of rings, here is the description on our website for that product..
'Fly a third flag on your Telescoping Flagpole! With this convenient 3rd flag swivel kit attachment, you'll be flying three flags on your flag pole in no time!
Includes Third Flag Attachment Swivel Clip Set only. Full Swivel Ring Replacement Set sold separately.'
I appreciate your suggestion regarding the double swivel ring, but the diameter of that ring does not fit around the section it would need to be installed on, to fly a third flag, and we do not currently have a manufacturing mold for the double ring in the larger diameter. We use the larger single ring for this purpose and have always had great success with it!
Lastly, I do see that the image on our website mentions a recommended flag size of 2'X3' for the 20' pole. I can see how that could be confusing. We always recommend the 25' pole for the third flag attachment, but have many customers who want to try it on their 20' pole. For this reason, we added this as an option on our site. We wanted to make sure we only recommended the smaller flag if they choose this option. I will talk to out team and see what they think about either removing this from the product page or adding that info to our instructions.
Thanks again for the valuable feedback and for choosing to support a small family business! Kindly, Bethany -Atlantic Flag & Pole
Shop Safe
State-of-the-art secure 256-bit encryption SSL protection ensures your shopping experience is safe.
365 Day Phoenix Home Trial
Enjoy our industry-exclusive 100% risk-free money-back guarantee.
Forever Warranty
Worry free warranty for as long as you own your Phoenix Flagpole
Made in USA
American Engineering. American Aluminum. American Made.