Skip Bedell July 4th Telescoping Flagpole Package - 25' Black Bronze
$997.00
$1,872.91
-47% OFF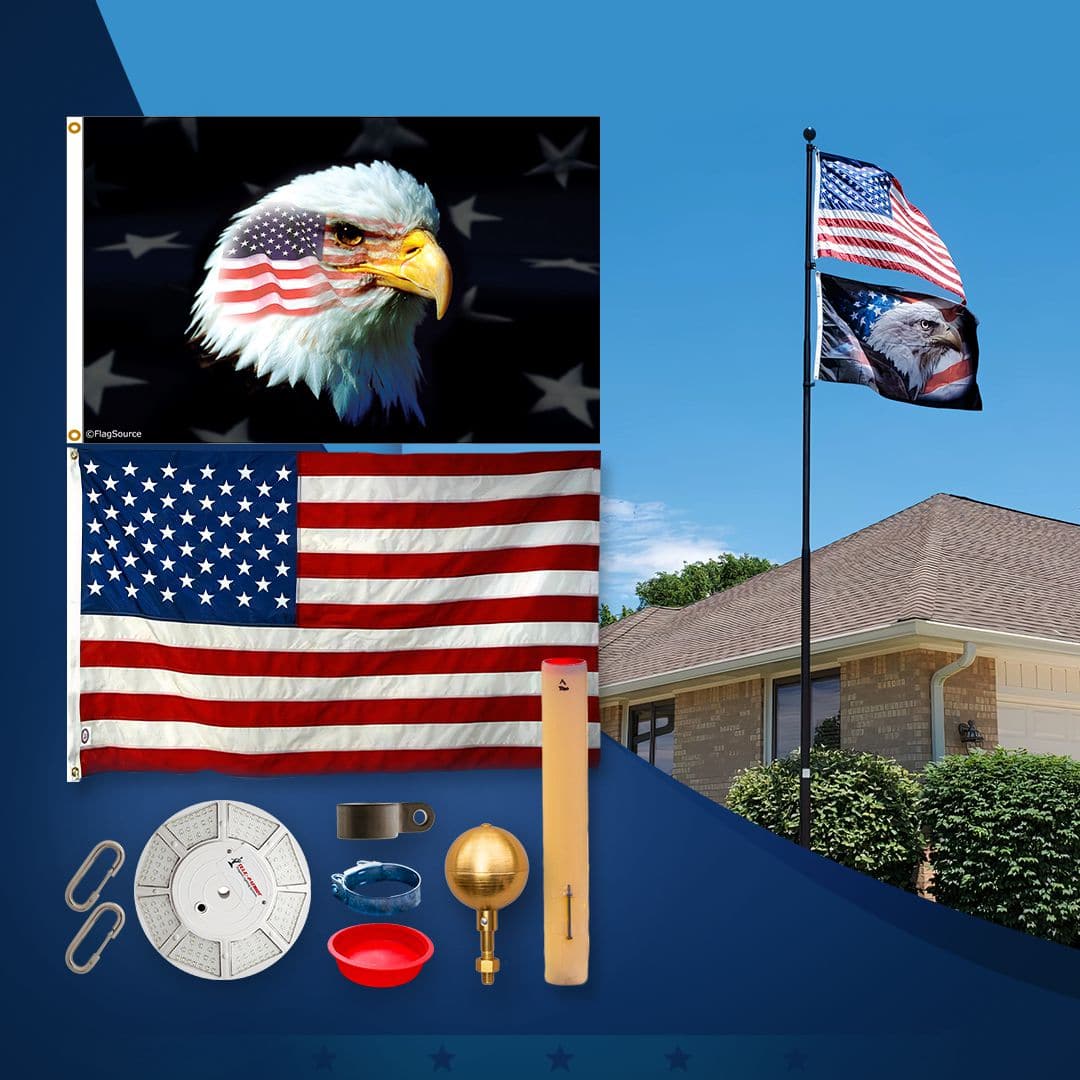 The BEST 4th of July gift you can get!
I purchased the 25 foot flagpole with several accessories and I could not be happier! It took over a month to get approval to install but not a huge hurdle. Installation was extremely easy. I have the Golden Eagle, the Black & White Eagle, which will be used for those special occasions, such as the 4th of July! The second flag below the American Red, White & Blue is the Golden Eagle. My plan is to get all of the military service flags and change them out each month. The entire neighborhood is completely in awe! THANK YOU VERY MUCH for making the best flagpole there is!
Love my Flagpole
The Atlantic Flagpole I purchased is beautiful. It is very well made, easy to install and looks great flying proud in my yard. It makes me smile ever time I see it.
Atlantic's Flagpole Unites Household on How to Fly the Flag!
After moving six years ago, we discussed installing a flagpole. My wife objected with a checklist of features that seemed insurmountable. Then we saw Atlantic's telescoping Fourth of July flagpole promotion. Every box checked and household bliss restored on installing a flagpole. Here we go: Easy to install and remove or relocate in the yard, maintenace free, aesthetically pleasing - beautiful bronze color with matching accessories, and a twenty-five foot height which was perfect for our home. Lastly, the flag had to be lighted and topped with a tasteful American Eagle ornament. The checklist was completed, the promotional price made it affordable, and a decision was made. Purchased and installed the Atlantic Flagpole. Household unity blesses our decision! You will not regret investing in an Atlantic Flagpole to beautiful your home, and stand united for freedom.
Navy Veteran
I had been looking for a "Made in America" flagpole and this fit the bill perfectly.
Installation was straightforward at my ranch front gate and the black finish compliments the existing gate structure. Operation of the flagpole is simple and precise. Overall: Looks great, easy operation, and made in the USA! Highly recommended!
Can't wait!
Can't wait to put it up!! Everything arrived in a timely manner and looks and feels like excellent craftsmanship and material. Pictures to follow - once we have Old Glory flying:)
Skip Bedell July 4th telescoping flagpole and accessories.
As of today I still have not received my full order. I think I have received everything except theAmerican flag that is suppose to come with this promotional package. I have received three deliveries and the flag wasn't included in any of these. It has taken a very long time to received this purchase. Please advise to status of American flag.
Flag Pole is top-tier quality!
The pole itself couldn't be better. It works superbly, looks great, and is obviously made of the best materials. The accessories (flags, gold ball topper, and solar LED light) all seemed a bit cheaper or lightweight in comparison. The light is just adequate in brightness-I was thinking it was going to be a bit more.
Love my Atlantic Flagpole
We dug the hole (the hard part) a week ago (Aug 1) and had flags flying on Wed Aug 3. Looks great, we are both Proud American Veterans.
Great Product
We purchased the 25' Bronze flag pole with the Gold Eagle. Very happy with our purchase. Great Quality product. Easy to install once you get the 14"x 28" hole dug. Of course you have to hit a few tree roots and rocks before your done digging. Would definitely recommend this product.
Shop Safe
State of the Art secure 256-bit encryption SSL protection keeps your shopping safe
365 Day Phoenix Home Trial
Industry Exclusive 100% Risk Free Money Back Guarantee
Forever Warranty
Worry free warranty for as long as you own your Phoenix Flagpole
Made in USA
American Engineering. American Aluminum. American Made.