Skip Bedell Package Deal Black Bronze 20'
$1,099.97
$1,872.91
-42% OFF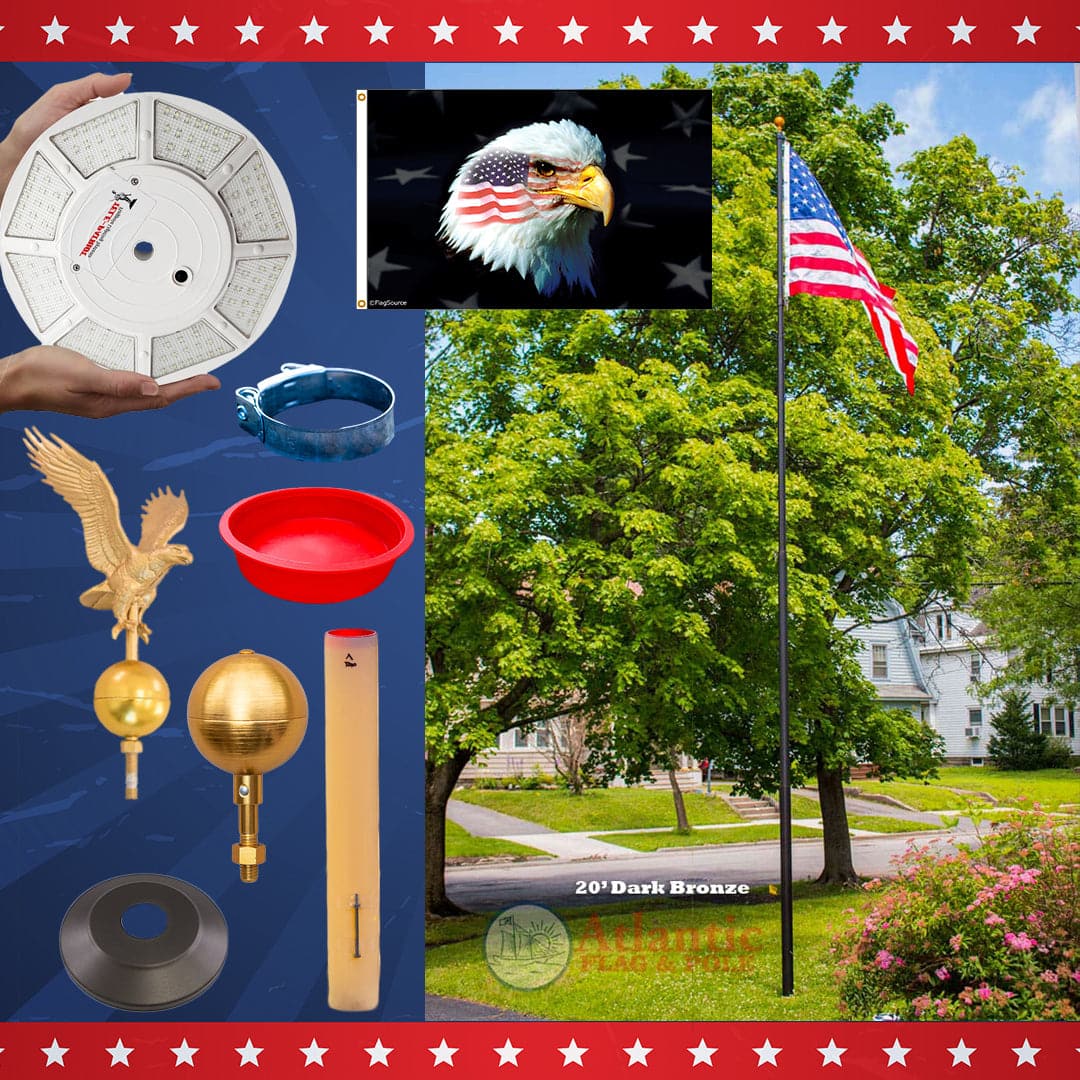 Second one was a charm!
We loved the first one so much that we bought a second as a gift. Great company with great "Made in America" products.
God bless America
Upon receipt of the flag pole kit I immediately prepared the site to erect the pole and display the flags, U.S. flag and the Trump flag. I positioned the pole at the entrance to my property where the whole world could see it upon approaching my residence. The pole is located approximately one thousand feet from my house and I will either drive by on my way out or walk down to see the flag wave in the breeze. I will walk down to see it at night displayed by light. I love it, thank you.
Robert Urista, Lt Col USA Ret.
Excellent product and outstanding support
I ordered the Skip Bedell Package Deal Black Bronze 20' package and lived it. I had some challenges with the delivery (shipper not Atlantic) and the Atlantic team jumped in and supported me though to resolution. Says good things when everything works perfectly, says even more when it does not go perfect and the support is outstanding. The products and the prople are great!!
My only complaint was the time it took to get the products
I know we blame COVID however we here in South Dakota have been open and busy since March.
Thanks
Great Flag Pole!!!
Quality of the flagpole and the ease in which I was able to put it up as well as raise and collapse the pole as needed is just amazing. The customer service was fantastic weekly updates on my order it's really been great. I have it flying with my American flag and my Trump flag underneath it. I really love it and very happy I was watching Fox and Friends that morning of July 4th.next summer I'm going to install another sleeve up at our summer house so that in the summer I can take it up there and fly it proudly. Thank you It is wonderful!!!
Haven't received eagle topper
Perfect touch for my back yard
Excellent product. Very easy installation. Looks great.
Perfect!
The 20' flag pole was everything we were looking for. Installation was easy and the directions were easy to follow. Great quality! So proud to display the flag at our home. Easily withstood 50 to 60 mph winds the first week after installations during a tropical storm.
Skip Bedell Package Deal Black Bronze
We are very pleased with this flagpole package. It looks great. Thanks.
Skip Bedell Package Deal
I have never put up a flagpole before. This was pretty easy to do with the right tools and a little help from my sisters. The flagpole is great quality and enhances my property. Love It.!! enclosed is a video of the flag at night time.
Shop Safe
State of the Art secure 256-bit encryption SSL protection keeps your shopping safe
365 Day Phoenix Home Trial
Industry Exclusive 100% Risk Free Money Back Guarantee
Forever Warranty
Worry free warranty for as long as you own your Phoenix Flagpole
Made in USA
American Engineering. American Aluminum. American Made.