Skip Bedell Memorial Day Telescoping Flagpole Package Deal
$1,069.97
$1,942.91
-45% OFF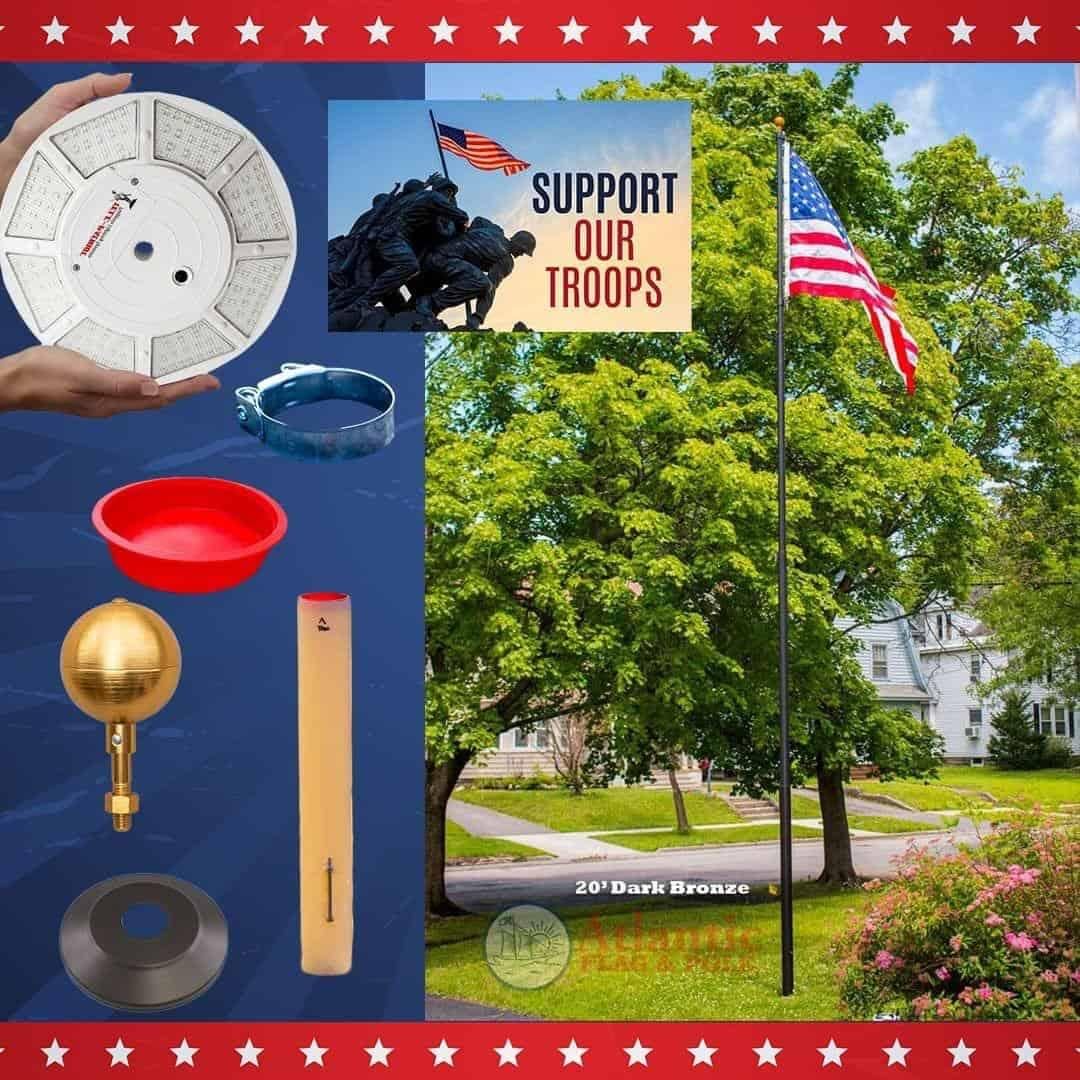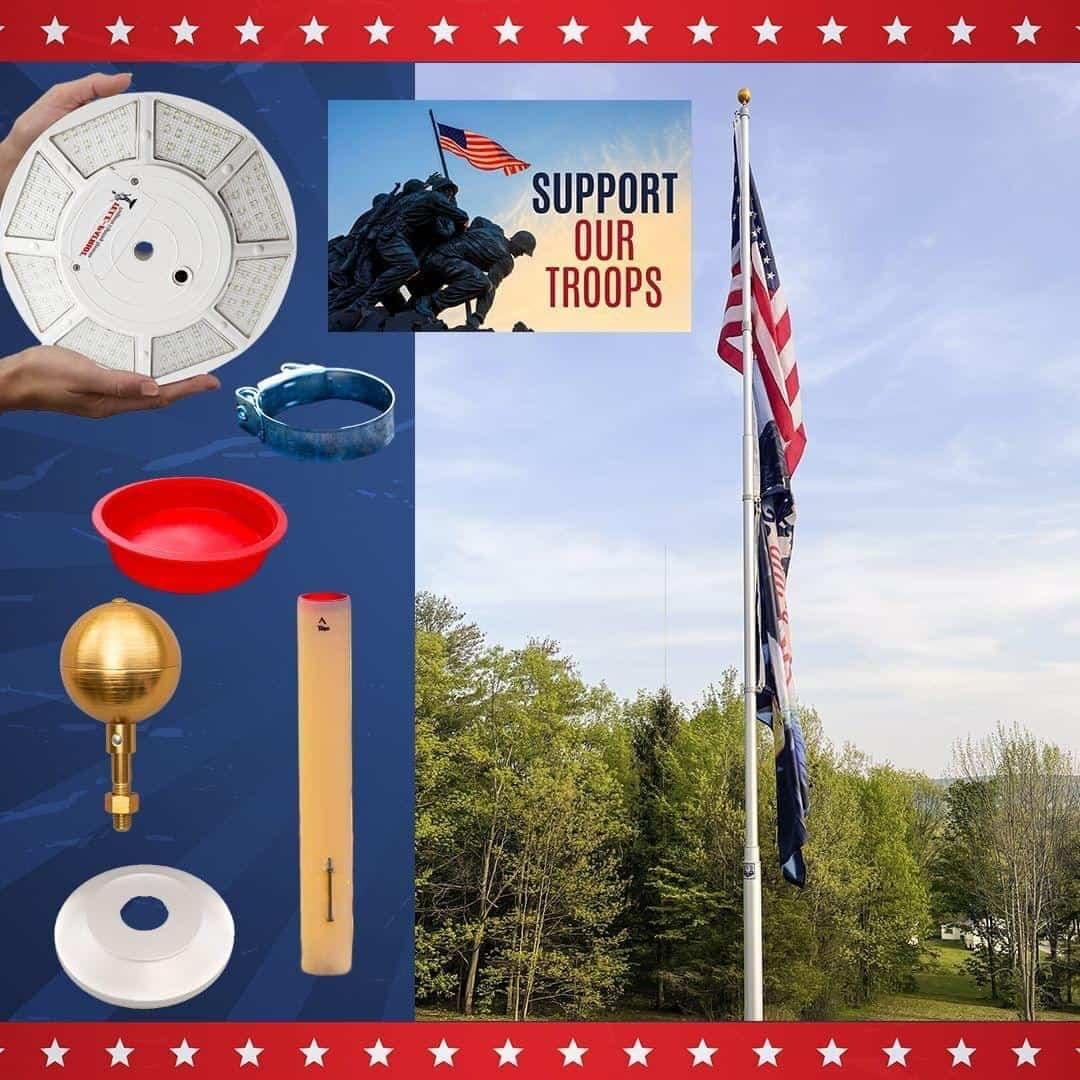 My installation of 25 foot telescoping flagpole.
Dear Bethany and Kevin,
I Would have rated five stars if I had been advised to prepare with 3 each 50 pound bags of concrete and 2 each 50 pound bags of gravel. I was careful to follow instructions and my hole was concise to instruction: 14 inches in diameter and 28 inches deep. I dug the hole by hand with a small hand spade. I did not have a post hole digger and did not want to purchase Lowe's post hole digger at $59 for a one time use. I did not make it larger then the suggested dimensions. The hole needed all of what I have listed above. I am 76 years old. I am not slow but I am patient. I worked alone. I used a small hand truck to move the heavier items. The entire process from delivery of flag pole to clean up took me four days. I had my site picked out and marked before the flagpole arrived. From the outset I was focused upon completion and when the flag was raised I was filled with such pride! I'm very happy that Atlantic Flag and Pole provided me with such a beautiful flag pole and flag.
Thank You,
Ronald McCarty
(321) 591-2764
Gadsden Flag
I am very pleased with the Skip Bedell flag kit. But, I was very displeased with the Gadsden flag I purchased from your company. I read your sales pitch info which you sent via email to me about the history of the Gadsden flag. I ordered it from your company. It was very trashy. For example, of the history explained about the snakes rattle representing the 13 colonies; well, this flag had either nine or 10 rattles, definitely not 13. And it was flimsy and cheap looking. Definitely not of the same quality as the other products I purchased through Atlantic Flagpole. I think you should drop that manufacturer as a supplier. Oh yeah, I trashed that flag and replaced it with one from another supplier. Are
American Spirit
I think the flagpole is GREAT. The instructions for the installation were spot on and easy. The ease to change the flags is awesome and the pole is very strong. I applaud you for a great American product. Keep up the Great American Spirit!!!.To bad all are products aren,t made here instead of China..I urge everyone to BUY AMERICAN. GOD BLESS AMERICA.
Skip Bedell Memorial Day Telescoping Flagpole Package Deal
Skip Bedell Memorial Day Telescoping Flagpole Package Deal
I recently purchased the above listed Flag pole package. I can verify the great quality of all the items. I am proud to have such super GREAT looking items to display my flags. Have gotten to meet alot of people from them stopping to compliment and admire the whole flag pole setup.. Bethany was a Polite, Friendly, Curtious, very Helpful. The transaction was floorless, very well packaged, delivered in PERCECT CONDITION. So proud and honored to be able to fly my flags on such well made (in America) flag pole. The whole setup is all so beautiful. Glad after all my investigation I feel I made the GREATEST choice with this purchase. Daughter is a lieutenant in the USAF and also feels so proud to look at su h a nice setup. THANK YOU . Keep up the Great Work. Thank you. AAA+ COMPANY
Shop Safe
State-of-the-art secure 256-bit encryption SSL protection ensures your shopping experience is safe.
365 Day Phoenix Home Trial
Enjoy our industry-exclusive 100% risk-free money-back guarantee.
Forever Warranty
Worry free warranty for as long as you own your Phoenix Flagpole
Made in USA
American Engineering. American Aluminum. American Made.